Internal linemarking
Effective line marking can help keep your staff, equipment and products safe. We get the job done with thorough preparation, durable fast drying line marking paint and good working practices to minimise downtime.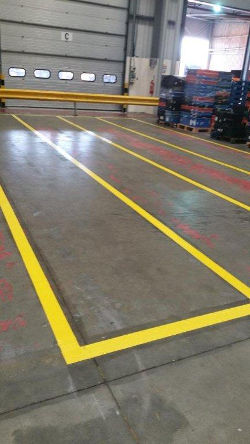 Internal Linemarking benefits
Proven durable products
Fast to apply
Fast drying
Minimal downtime
Internal linemarking uses
Walkways – pedestrian walkways make people safer by clearly marking safe and hazardous areas in your warehouse, factory or workshop.
MHE routes – Linemarks can help you plan your MHE routes and then . Our experienced personnel know that good MHE routing can help segregate staff and vehicles with safe crossing points and appropriate warnings signs and compliance with relevant health and safety laws.
Pallet locations – efficient and safe storage relies on correct marking of your warehouse floors.
Get in touch with us to discuss any internal linemarking job that you need by using our Contact form. See also our page on external linemarking for your outdoor surfaces and roadways.